Aug 27, 2012

Grand Isle plans restaurant revamp

Grand Isle is looking to invest substantially in its restaurant and kitchen when the resort closes next month, effectively doubling the number of seats to 90. Photo: Nassau Guardian
The multi-million-dollar Grand Isle Resort, located on Emerald Bay, Exuma, will undergo major construction and renovations once its doors are closed temporarily, beginning next month.

According to the resort's Executive Director Grant Castle, the high-end resort historically closes for approximately five weekends starting at the end of next month into October. However, as the resort plans to renovate its kitchen and dining facilities, the closure has been extended for an additional three weeks.

The resort's restaurant can presently accommodate up to 45 people, but at the end of the expansion, Castle pointed out that its capacity is expected to double.

"During that time, we will be refitting and upgrading our kitchen facilities and expanding our dining and seating areas. We have a very big restaurant expansion that we are starting the moment our last guest leaves on September 3. The investment is substantial. As you can imagine, when you are going to put in an entirely new kitchen and go from 45 to 90 seats, it's a substantial amount. We're confident that we are going to come out of this with a facility that would match the experience that they would expect at a place like Grand Isle," he said.

The Grand Isle executive admitted to Guardian Business that expanding its dining facilities wasn't part of its original plans. Nevertheless, the move is being welcomed by its homeowners and guests.

"The reason that we are expanding the restaurant is that originally we were part of a community called Emerald Bay, that was supposed to have many different restaurant options available. The original Four Seasons had several restaurants in a marina. Now that Sandals is an all-inclusive resort right next to us instead of the Four Seasons, and their marina never built a restaurant, we find that we need to build a restaurant where we can provide a wide variety of food for people that are going to be there all the time. We don't have a large enough restaurant to handle high occupancy periods because we didn't envision being the only restaurant in the area. And now that we are, we realized what we have to do," Castle explained.

Although the resort presently has 50 employees, Castle shared that there will be additional jobs available once the restaurant is completed.

"We are looking at that now for when we reopen. We are hoping to have enough time at the end of our construction where we will be able to do training. We have a pretty good handle on what we need to do from a staffing standpoint based on what we were doing with the existing restaurant," he revealed.

The expansion of the restaurant also matches an ongoing rise in investors at Grand Isle.

Peter Nicholson, who pulled the resort out of receivership through the purchase of 31 villas, reported a robust August in terms of investor interest. So far, the Canadian developer has already sold seven villas and continues an aggressive rental campaign to attract buyers.

"My remaining 24 villas are all booked for the last week of August," he noted.

In addition to the restaurant, Castle noted that there are plans to construct a maintenance facility and an on-site sales office, in an effort to improve operations at the resort.

The resort is also launching a fall and winter marketing program so it can introduce buyers to the new restaurant experience. Business at the resort has nearly doubled and sales have been steady, he added.

"We have completed all of those sales and now are 100 percent homeowner owned, and we have turned the corner on the period where we hadn't sold all of our units. We are doing well this year. We have booked about twice as much business as last year. It looks like it's going to be a strong year for us. We are optimistic with what we are seeing. We really think the reason for our upswing is three reasons: Incredible staff, facilities and location."

By Scieska Adderley, Business Reporter, The Nassau Guardian
Aug 29, 2012

Antigua and Barbuda Has Caribbean's "Healthiest" Oceans: Report

Antigua (Photo: Antigua Tourism)
By the Caribbean Journal staff

Antigua and Barbuda has the Caribbean's "healthiest" oceans, according to the Ocean Health Index.

The index is a collaboration between 65 scientists and partnerships between organizations including National Geographic, the New England Aquarium and others.

The report scores countries based on the health of their Exclusive Economic Zones, meaning the areas "over which a coastal nation has exclusive regulatory control over economic and resource management."

Antigua was followed by Suriname and the Bahamas as the next-healthiest ocean zones.

The scores are based on the Index's 10 public goals for a healthy coupled human-ocean system.

The categories include Food Provision, Artisanal Fishing Opportunities, Natural Products, Carbon Storage, Coastal Protection, Coastal Livelihoods & Economies, Tourism and Recreation, Sense of Place, Clean Waters and Biodiversity.

See the chart below for the full Caribbean rankings (note: overseas territories were grouped together as blocs in the report):
Aug 09, 2012

Mike Oldfield's Nassau, Bahamas

Admire the Bahamian parliament buildings and then head down to Cable Beach's golden sands. Photo: Alamy
The musician Mike Oldfield, who performed Tubular Bells at the Olympics opening ceremony, explains his fondness for Nassau.

Interview by York Membery

WHY NASSAU?
It's a lively, friendly little city by the water which has a charming, 1950s style British feel to it. It has good shopping, some beautiful old colonial buildings and is pretty low-rise, with very few tall modern buildings. And it's the perfect springboard from which to enjoy the rest of the Bahamas.

ANYTHING SPECIAL I SHOULD PACK?
With its tropical-style climate, it can get pretty hot in the summer, so take shorts, a hat and sandals. It's never really cold and even in winter the weather's more like the British spring.

WHAT IS THE FIRST THING YOU DO?
I like to go and look at the cruise ships down by the waterfront, admire the Bahamian parliament buildings and then maybe head down to Cable Beach's golden sands.

WHICH IS THE BEST PLACE TO STAY?
It's got to be the Graycliff Hotel (001 242 302 9150; graycliff.com; doubles from £208), an old colonial mansion-turned-hotel where everyone from the Duke and Duchess of Windsor to Winston Churchill have stayed.

WHERE WOULD YOU MEET FRIENDS FOR A DRINK?
I often pop into the Blu Restaurant Bar Lounge (Elizabeth on Bay; 328 8258; facebook.com/blu.restaurant.bar.lounge) for a drink. It's the place to be seen right now.

Cruise ships down by the Nassau waterfront
WHERE IS THE BEST PLACE FOR LUNCH?
If I'm going to have lunch in town, I'll more often than not eat at the Blu Restaurant Bar Lounge too. The Mediterranean-style food they serve is excellent and you're right by the water.

AND FOR DINNER?
One of my favourite restaurants is Matisse (356 7012; cafe-matisse.com) which serves amazing Italian food – I usually go for the delicious home-made pasta – and also has a nice outdoor dining area.

WHERE WOULD YOU SEND A FIRST-TIME VISITOR?
If you have children you've got to take them to Aquaventure, the water park in the nearby Atlantis Paradise Island resort. But a visit to Nassau is, above all, about the Bahamas' little islands and boats. So once you've seen the city's waterfront and its colonial architecture, and done a bit of shopping in Bay Street, hire a boat and head out to somewhere like Rose Island.

WHAT SHOULD I AVOID?
It's a lot safer than some cities in the Caribbean. That said, I wouldn't walk around some of the more inland areas of town late at night.

The Atlantis Resort on Paradise Island
WHAT SHOULD I BRING HOME?
A suntan, and the relaxed state of mind you get from being in the Bahamas any length of time.

ANYWHERE THAT ISN'T YOUR KIND OF TOWN?
There is usually something worth seeing in most places if you seek it out. That said, I think some cities in the Caribbean have been overly commercialised. Fortunately, Nassau hasn't gone that way.

Courtesy of www.telegraph.co.uk

Mike Oldfield's latest album, 'Two Sides: The Very Best of Mike Oldfield', is out now.
Aug 08
, 2012

Baha Mar Homes hit local market

The 307 elite residences at Baha Mar start at $1.5 million and run all the way up to $6 million for a four-bedroom villa
on the beach.
Five real estate companies have been selected by Baha Mar to market its 307 elite residences to local and international clients.

Following a workshop with the property firms, the up-and-coming mega resort has officially launched residential sales here in Nassau, with prices starting at $1.5 million. According to multiple property sources, Baha Mar has sold approximately 50 of the residences since executives unveiled the product in June during an exclusive London soiree.

Damianos Sotheby's International Realty, H.G. Christie Ltd., Mario Carey Real Estate, Cross & Mosko Real Estate and Development Company and ERA Dupuch Real Estate will now bring their resources to bear in the sales push.

"It's an exciting product," said George Damianos, president of Damianos Sotheby's International Realty.

"I believe the market will definitely respond. The fact you actually own it and there are no condo fees and user fees is quite attractive, and you also get a chance to get points if you don't want to use it, for other hotels. It offers a good return on your investment."

The top property firm, routinely dealing in multi-million-dollar transactions, is rolling out a specific marketing campaign to reach clients. Damianos said his agents were "inspired and excited" by the workshops put on by Baha Mar last week.

Richard English, vice president of residential sales at Baha Mar, said initial interest has exceeded expectations.

Baha Mar's Senior Vice-president of Administration and External Affairs Robert "Sandy" Sands, said sales thus far have been "all over the map". He reported strong interest from the Middle East, the Far East and the UK in particular. And now that the focus has shifted to local realtors, the mega resort hopes to continue that momentum.

"The Bahamas has a tremendous amount of high-net-worth individuals who come to this jurisdiction. So it's important that the project is represented locally," Sands added.

Damianos said the lion's share of sales will not come from Bahamians, but rather international investors in the region.

The offerings include a $1.5 million junior one-bedroom unit, running up to a $6 million four-bedroom villa on the beach. Executives at the 1,000-acre, $3.5 billion development have launched the Baha Mar Collection to further entice international investors and add value to the residences.

As the owner of the property, investors have the option of using the units all year round, renting, or collecting points towards hotel and vacation experiences around the world.

Partners now working with Baha Mar include the Fairmont in Mecca, the Mandarin in Hong Kong and the Burj Al Arab in Dubai.

During last week's session, local realtors enlisted to sell the elite properties were introduced to a Baha Mar sales iPad app, which allows them to tailor their pitch using the popular technology.

Baha Mar, set to open in 2014, includes 2,200 new rooms within five well-known hotel brands, including Rosewood Hotels and Resorts, Mondrian, a Morgan's Hotel Group property, Hyatt Hotels and Resorts and a casino hotel yet to be announced.

The latter is slated to become the largest casino in the Caribbean. A 200,000-square-foot convention center, 200,000 square feet of retail and entertainment space, an eco-water park, 3,000 feet of beach front and an 18-hole Jack Nicklaus Signature Golf Course round out the list of features and amenities for the Cable Beach resort.

By Jeffrey Todd, Guardian Business Editor, The Nassau Guardian

View our Baha Mar listings
July 25, 2012

House Hunting in ... the Bahamas


Maggie Steber for The New York Times
A traditional Bahamian cottage with three bedrooms is on the beachfront of Treasure Cay on Great Abaco Island. It is on the market for $1.895 million. More Photos
THREE-BEDROOM BEACHFRONT COTTAGE ON GREAT ABACO ISLAND $1.895 MILLION

This cottage was one of the first built on the beach in the resort community of Treasure Cay on Great Abaco Island. Built in traditional Bahamian style in 1975, it has a cedar roof, wood siding, and vivid colors: purple, turquoise and white, inside and out. The front door is reached through a lush tropical garden with palm trees and bright pink bougainvillea. The living-and-dining area has a double-height ceiling of unpainted local pine, and a pale gray floor in Mexican ceramic tile. Across the room, a full row of sliding glass doors topped with windows to the ceiling provide beach and ocean views. To the right of the entrance, a partial wall separates the living and dining area from the galley kitchen, which has white wood cabinets, an electric stove and a pantry. Beyond the kitchen are two bedrooms, one facing the beach and the other the garden. They share a hall bath.

A short flight of steps up from the living room leads to the master bedroom, which has one wall painted lavender, and a sliding glass door that opens onto a screened-in porch. In the adjacent master bathroom, the wooden vanity has a porcelain top. A door from the bathroom leads to a private outdoor shower with ocean views.

A turquoise-painted wood deck runs the length of the house.

One step down from the deck is the beach, a pristine three-and-a-half-mile expanse of powdery white sand.

The center of Treasure Cay is a five-minute walk from the house, but most people travel by golf carts. The town has restaurants and shops, along with tennis courts, an 18-hole golf course, a dive shop and a marina. The Treasure Cay International Airport, 15 minutes away, has flights to Florida.

MARKET OVERVIEW

The Bahamian market is closely tied to the American economy. It was hit hard by the global financial crisis and has not yet recovered, said Everett Pinder, a real estate agent with Treasure Cay Real Estate. Prices dropped as much as 30 to 40 percent between 2007 and 2010, depending on the area. "Prices are still down that far," Mr. Pinder said.

There are signs that the market is stabilizing, according to James Burdess, head of the Caribbean desk for Savills, the London-based real estate company. Mr. Burdess says that prices have held steady over the past year, and that sales volume is picking up as bargain-hunters swoop in to take advantage of reduced prices.

The price difference between beachfront and inland property can be huge. In Treasure Cay, the site of this house, inland houses start at $575,000, but it's hard to find a beachfront house that costs less than $3 million, Mr. Pinder said. Even an empty lot on the beach can cost $1.3 million to $1.5 million. This house is priced at $1.895 million. The current owners live outside the Bahamas and are pricing to sell as soon as possible.

Prices in Nassau, the capital, on the island of New Providence, tend to be 25 to 30 percent higher than in Treasure Cay. Mr. Pinder says this is because Nassau is easier to reach from the United States, and because Nassau has more shopping and nightlife than Treasure Cay.

WHO BUYS IN THE BAHAMAS

As many as 80 percent of the Bahamas' buyers are Americans, Mr. Pinder said. In Treasure Cay, most of the homes are owned by Americans, who spend winters there, but Europeans and Canadians are also represented, according to Stan Sawyer, an agent for Damianos Sotheby's International Realty and the listing agent for this property.

BUYING BASICS

There are no restrictions on foreign property ownership in the Bahamas. Foreigners buying property can apply to the Bahamian government for permanent residency status, a move some people make because it may carry significant tax advantages in their home countries, Mr. Sawyer said.

When property changes hands, a stamp tax of 10 percent is levied by the government. The buyer and the seller split this expense, according to Mr. Burdess.

The real estate agent commission, usually 6 percent for houses and 10 percent for undeveloped land, is paid by the seller, Mr. Sawyer said.

Legal fees vary, but Mr. Burdess says the buyer's share is usually about 1.5 percent of the purchase price. He advises foreign buyers in the Bahamas to find a reputable lawyer to help them navigate the process and catch any legal snags with the title.

WEB SITES

The Bahamas government site: www.bahamas.gov.bs

Treasure Cay Beach Resort: treasurecay.com

Abaco Escape: abacoescape.com

LANGUAGES AND CURRENCY

English; dollar (1 Bahamian dollar = $1)

TAXES AND FEES

Property taxes, determined when a house is sold, should be around $15,800 per year for, according to the listing agent. Homeowner association fees of about $120 per year cover maintenance costs for roads and streetlights.

CONTACT

Stan Sawyer, Damianos Sotheby's International Realty, 1-242-577-0298; sirbahamas.com

By VIRGINIA C. McGUIRE, The New York Times
July 16, 2012
LP – LUXURY PROPERTIES AWARDED PROPERTY MAGAZINE OF THE YEAR

Shanghai, 16 July 2012 – Asia-Pacific's premier property magazine, LP – Luxury Properties, was awarded "Property Magazine of the Year" by trade magazine Marketing. After several silver and bronze medal rankings, 2012's top award reaffirms LP – Luxury Properties' status as the region's leading publication of international luxury real estate, design, architecture and interiors.

"We are honoured to receive this award. LP – Luxury Properties content is unsurpassed and our highly targeted readership fosters a strong relationship with our advertisers. This has put our title on top. With our soon to be launched tablet version, we will continue to grow and further our market leadership," said David Turchetti, Managing Director of Blu Inc Media, China. "We look forward to sustained growth in the region and continually expanding the scope and appeal of our editorial content," said Sophie Kalkreuth, Editor-in-Chief, LP – Luxury Properties.

Marketing's "Magazine of the Year" survey ranks titles that have maintained their dominance amidst increasing pressure and is Asia's largest survey on the magazine preference of advertisers and their agencies. 2012's survey included a total of 337 respondents from major banks, FMCG companies, property developers, IT and telecommunication firms as well as travel and tourism companies.

The survey found that more advertisers chose LP – Luxury Properties magazine to reach out to their desired target audiences. Of the client-advertiser respondents, 77 per cent were manager-level decision makers and above 16 per cent were from the most senior ranks.

Contact Wong Shi Jie, Group Sales & Marketing Director, at sjwong@bluincmedia.com for further information.
June 29, 2012

Atlantis Takes Over Key JFK Terminal


Atlantis Resort, Paradise Island, Bahamas
THE Atlantis resort has unveiled a strategic alliance with Jet Blue and the airline's TrueBluie customer loyalty programme, in a move designed to drive tourist traffic to the Paradise Island destination.

Guests vacationing at Atlantis and The Cove can now earn one TrueBlue point for every $1 spent on the base room rate accommodations at any of five lodging options, including the Cove and the condo-style resort, The Reef Atlantis, as well as the Beach Tower, Coral or Royal Towers.

"What's better than a partnership made in paradise? JetBlue is excited to team up with Atlantis to offer another great option for TrueBlue customers to earn points for future travel," said David Canty, director, loyalty marketing, JetBlue.

"Partnering with JetBlue's TrueBlue program offers our guests yet another great incentive to visit Atlantis," said George Markantonis, president and managing director of Kerzner International (Bahamas). "JetBlue is a strong partner to Atlantis by providing direct air travel to guests in key markets."

Atlantis has kicked-off the partnership with a two-week long promotion at JetBlue's Terminal 5 (T5) at New York's John F. Kennedy International Airport. Its mobile experience will take place from June 23 - July 6, 2012, in the Lower Grandstand at T5, and includes a lounge mimicking The Cove, a photo booth and more. Atlantis is providing beach-themed merchandise, including sunglasses, beach bags and headphones.

JetBlue currently offers multiple daily departures to Nassau, Bahamas from New York's JFK, Westchester County, Boston, Orlando and Fort Lauderdale.

Courtesy of The Tribune: www.tribune242.com
June 26
, 2012

US Embassy lends support to Bahamian business



Charge D'affaires at the US Embassy in Nassau John Dinkelman urged Bahamians to foster an entrepreneurial spirit and said that the US will continue to support such efforts through grants and training.
Charge D'affaires at the US Embassy in Nassau John Dinkelman has spoken of his country's support for Bahamian businesses and commitment to building a profitable relationship between the two economies.

Speaking at the Global Trade and Financing Seminar held in Nassau earlier in the year, the Embassy representative said that small and medium-sized enterprises (SMEs) were key to an economy's growth and entrepreneurs should be given access to various means of support.

"We will support Bahamian businesses through educational exchanges, grants and speaker series. We want to listen to you, partner with you, and continue to conduct sessions such as these," he told the audience of businessmen and women. "The stronger both our economies become, the stronger our growing relationship will be."

According to figures from the US Department of Commerce, The Bahamas was ranked the 48th largest US export market from 2008 to 2010.

Dinkelman noted that this was indicative of "the deep and continuous commercial relationship we share and which evolves every day."

The US Embassy hosted the seminar in partnership with the Bahamas Chamber of Commerce and Employers Confederation (BCCEC) to educate local entrepreneurs on financing opportunities and provide an opportunity to network.

Dinkelman encouraged the business community to take advantage of the event saying: "[You have a] desire to connect with other business leaders and build professional networks. It is this entrepreneurial spirit and belief in market forces that has built nations and established trust throughout communities worldwide."

"By definition entrepreneurship simply means undertaking an activity or doing something.You are all people who do things and who get things done."

Courtesy of The Bahamas Investor: www.thebahamasinvestor.com
cmorris@dupuch.com
June 25, 2012
Saltwater Ventures films in The Bahamas – video

David Hack, executive producer of US Internet show Saltwater Ventures, says that The Bahamas is the best place in the world for sea fishing and bonefishing. Watch an interview with Hack here.
June 22
, 2012

Investment incentives encourage Nassau businesses



Hotels Encouragement Act and City of Nassau Revitalization Act offer exemptions from customs duty and property tax for businesses looking to set up in downtown Nassau.
Bahamian business owners are being encouraged to contribute to Nassau's revitalization efforts through a range of incentives designed to lighten the load for entrepreneurs and growing businesses.

Under the Hotels Encouragement Act and City of Nassau Revitalization Act, businesses are being offered exemptions from customs duty and property tax if they meet certain conditions.

At a Bahamas Chamber of Commerce and Employer's Confederation (BCCEC) seminar held yesterday at the British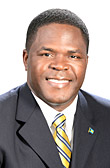 Khaalis Rolle
Colonial Hilton, Minister of State for Investments Khaalis Rolle (left) praised the measures and urged business owners to take advantage of the concessions offered, saying: "The Bahamas does not have the luxury of just chugging along as we have been doing. In a difficult economy you need investor confidence and consumer confidence. I am quite sure there is money out there to be invested."


"I want to assure business owners that they have a friend in the government. Everything we do, I will ensure the business community is kept at the forefront." Provided they have the correct supporting documents, businesses applying under the acts should have their applications addressed within two to four weeks, according to director of investments in the Bahamas Investment Authority Joy Jibrilu.
BCCEC chairman Chester Cooper (left) commented: "These are extraordinary times and not only are extraordinary measures required, partnership is [also] required. It is with this in mind that the chamber offers its full support to these initatives."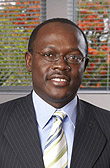 Chester Cooper
"We must look to see how we can unlock some of the local wealth to create economic activity, jobs and opportunities," he continued.

The City of Nassau Revitalization Act is part of an ongoing effort to rejuvenate the downtown Bay Street area, which has already seen the transfer of port operations to Arawak Cay and several cosmetic improvements.

The government hopes to draw new commercial and residential facilities to the area to continue the facelift and develop local entrepreneurship.

"The downtown revitalization is an important initative," said Cooper. "I look forward to the day when we can see a new, vibrant Bay Street and downtown."

Courtesy of The Bahamas Investor: www.thebahamasinvestor.com
cmorris@dupuch.com
June 22, 2012

Tourism Minister extols Bimini's potential – video

Minister of Tourism Obie Wilchcombe says that Bimini has untapped potential and has reiterated the government's commitment to marketing the Family Islands more aggressively. Watch an interview with Wilchcombe here.
June 2
1, 2012

UK High Commissioner visits Bahamas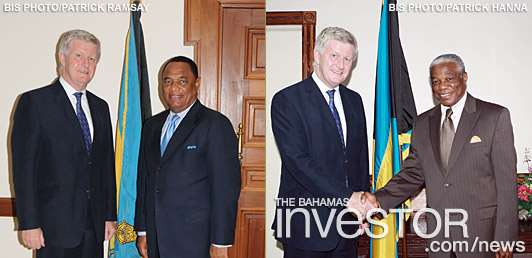 Pictured: (left) The British High Commissioner to The Commonwealth of The Bahamas Howard Drake pays a courtesy call on Prime Minister Perry Christie at his Cable Beach office June 20, 2012. (right) Minister of National Security Bernard Nottage welcomes Howard Drake, High Commissioner of the United Kingdom and Northern Ireland to the Commonwealth of The
Bahamas, during a courtesy call June 20, 2012. (BIS Photos/Peter Ramsay & Patrick Hanna)
Howard Drake, High Commissioner of the United Kingdom and Northern Ireland, visited the Commonwealth of The Bahamas June 20.
June 18, 2012
GEORGE DAMIANOS REPRESENTS THE BAHAMAS AT 2012 NATIONAL PROPERTY SHOWCASE IN LONDON


George Damianos making his presentation at Countrywide's UK event (photo courtesy of Jon Holland, Hamptons International)
NASSAU, Bahamas (June 18, 2012) George Damianos, President of Damianos Sotheby's International Realty, recently participated in an exclusive real estate event hosted by Countrywide (the UK's largest estate agency) at the Millennium Hotel in London. Countrywide owns and operates London Sotheby's International Realty and United Kingdom Sotheby's International Realty. International realtors from around the world attended with only two realtors from our region invited - one from Barbados and George Damianos from the Bahamas. Mr. Damianos made a presentation on the Bahamas as an ideal destination for primary and second-home owners, highlighting our tax neutral incentives and the ease of buying property in the Bahamas. He also had the opportunity of showcasing many of the company's exclusive property listings to an audience which included over 150 industry leaders, including representatives from Lloyds, RBS, HSBC and Virgin Money.

Mr. George Damianos along with his sister and partner Virginia Damianos own and operate Damianos Sotheby's International Realty which has a total of 11 offices throughout the Bahamas with five offices in the Abaco's, including two in Hope Town, one in Marsh Harbour, Treasure Cay, Guana Cay in addition to its offices in Nassau, Old Fort Bay and Lyford Cay and offices in Eleuthera in Governor's Harbour and Spanish Wells. The newest office is in Georgetown, Exuma. Damianos Sotheby's International Realty head office is located at 75 Shirley Street, Nassau. For additional information, please contact 242 322 2305 or 242 362 4211.
June 01, 2012
MARKET UPDATE by Nick Damianos - JUNE 2012


Nick Damianos, Estate Agent
Real Estate prices have hit bottom, so what kind of rebound can we expect? The answer: slow and modest. The days of "irrational exuberance" are over, but nonetheless, savvy investors are realizing that now is the time to buy.

The US Market
"The Crash is over," declares Mark Zandi, Chief economist for Moody's Analytics Inc, "Home sales and housing starts are now off the bottom." This is a sentiment echoed by various market experts and evidenced by recent studies and data.

According to The Economist magazine, "On fundamentals, America's housing market looks increasingly healthy. Inventory levels and vacancy rates are way down and rents are up … home sales and construction rose substantially in early 2012 from the prior year." Bolstering this claim is a study performed by RE/Max LLC of 53 metropolitan areas in the US, which showed 9 straight months of sales volume increases.

The steady increases in volume can be explained by the fact that the US market experienced an extreme over-correction in prices. Even as values have climbed in many areas since 2008, "Homes in many cities are (still) substantially undervalued as measured by affordability," says David Stiff, chief economist at Fiserv Case-Shiller. ("Affordability" is measured by the ratio of median home price to median family income.) Mr. Stiff adds that this "can lead to double digit bounces in prices – say a jump of 10 – 15% in the year following the trough." However, while such a bounce-back often occurs after a typical slump, this Great Recession is anything but typical. Although many analysts agree that prices have hit bottom, they also agree that home prices will not experience a significant jump any time soon. Rather, prices will climb slowly at very modest increments.

The Bahamian Market
Historically, the Bahamian economy and real estate market have lagged behind the US by about 6 to 12 months. However, as it relates to the housing rebound, we have been ahead of our neighbors to the north. While prices still have not rebounded to pre-recession levels, we have seen an increase in volume over the past year.

Much of our volume increase has been due to the economic turmoil and uncertainty in the Eurozone. Many wealthy Europeans have sought shelter in the stability of the Bahamas and our tax-neutral laws. In 2012 we have seen an increase in the number of French coming to the Bahamas buying real estate and placing their money in our locally-based private banks. However, it's not just the French, Europeans of all stripes have been choosing the Bahamas and buying high-end properties to establish residency here. By establishing residency in the Bahamas, Europeans are insulating themselves from the inevitable tax hikes needed to fund bailouts and prop up banks in the Eurozone.

Canadian buyers have also been a significant part of the ongoing recovery in the Bahamian real estate market. Like Europeans, Canadians enjoy tax benefits by establishing residency in the Bahamas, but more importantly they have remained bullish on real estate as the Canadian property market has continued to boom while the rest of the world has been suffering. This positive attitude towards real estate, combined with increasing wealth in Canada, the strengthening of the Canadian dollar and the tax benefits of property ownership in the Bahamas, have made the Canadians one of our largest buyer segments.

Finally, it is interesting to note, that the Americans are returning to our market in greater numbers. Wealthy and middle-income Americans are again looking at the Bahamas for investment and vacation property. Now that the US economy has settled a bit, savvy investors see our real estate market as being far more stable than that of the US and view Bahamian real estate as an excellent hedge against the rising inflation in North America.

The Bottom Line
While we feel that prices have finally bottomed out, we do not expect massive price increases in the near future. However, given the current affordability of real estate it is a great time to make a long-term investment. The Economist magazine agrees, stating "On our gauge, prices nationally (in the US) are still 19% below fair value," causing investors with cash to snap up properties quickly, as they know prices are not likely to get any better.

The key for sellers, is to remember that buyers have a lot of choices and the markets are still a long way off from returning to pre-recession levels, therefore only the accurately and realistically priced properties are going to sell.
May 31, 2012

Grand Isle Resort & Spa completes 100 per cent home-ownership



Grand Isle Resort & Spa
Grand Isle Resort & Spa has finalized its transition to 100 per cent home-ownership with the sale of 31 remaining villas to Peter Nicholson of Ottawa, Canada.

Nicholson purchased the units from Textron Inc, the financier who owned the units following default on the part of the original developer. Over time, Nicholson intends to sell most of the units he has purchased, and has already made several sales. "Grand Isle is a gem. The location, staff, amenities and overall extremely high quality levels are very impressive to our prospects. Of the 31 units we purchased, four have already sold, and we have very high interest on several others."

While Nicholson has sold the first few at introductory pricing, his listing prices are going up as the demand increases.

"We are pleased to have Peter and his team join us as fellow homeowners," says Grant Castle, executive director of Grand Isle. "Peter has been very active in bringing friends and colleagues to the resort to see it for themselves. He has added a great deal of energy to the resort with his outreach efforts."

Located on Emerald Bay in Great Exuma, Grand Isle Resort & Spa is a stunning oceanfront villa resort. Grand Isle consists of 78 luxuriously appointed one- to four-bedroom villas and penthouses for sale and rent, each with fully equipped kitchens, spacious living areas, high-end amenities, and extraordinary views.

Courtesy of The Bahamas Investor: www.thebahamasinvestor.com
May 31, 2012

2012/13 Budget Communication

The newly elected Prime Minister of The Bahamas, Perry Christie, delivered the 2012/13 Budget Communication to Parliament May 30. PDF (Click to download)

Courtesy of The Bahamas Investor: www.thebahamasinvestor.com

May 31, 2012

SMEs in Bahamas face "a myriad of challenges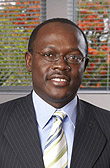 Chester Cooper
Chairman of the Bahamas Chamber of Commerce and Employers Confederation Chester Cooper has said that small and medium-sized enterprises in The Bahamas greater access to capital and more support from the government.

The recently elected chairman of the Bahamas Chamber of Commerce and Employers Confederation (BCCEC) Chester Cooper, has spoken out on funding challenges for small and medium-sized enterprises (SMEs) in The Bahamas.

The chairman urged government to develop a co-ordinated approach to allow small business leaders to grow their companies and contribute more effectively to the local economy. Speaking at the BCCEC's International Trade and Financing Seminar held in Nassau recently, Cooper said: "As the recently elected Chairman of the BCCEC with SME development as my main mandate, it is fitting this is one of my first public appearances. The lack of access to funding and operating with inadequate capital cuts to the core of the myriad of challenges facing SMEs in The Bahamas."

At the seminar, which was co-hosted by the US Embassy, Cooper highlighted the role of SMEs in contributing to the country's gross domestic product, saying that small businesses make up more than 75 per cent of all Bahamian businesses and are integral to creating jobs and reviving the economy. "The government wants to create 43,000 jobs. The capability of SMEs to be the leader in employment creation is evident in countries such as Singapore. It is with that backdrop that I urge the government to pass small business legislation. A more co-ordinated approach will achieve greater results." "The expansion of choice for funding and access to capital is necessary to provide sustainable means of creating commerce and expanding opportunities not only for SMEs, but also for all business." "It is important that smaller business continues to aspire to be big business."

Courtesy of The Bahamas Investor: www.thebahamasinvestor.com
May 31, 2012

PM Christie presents core policies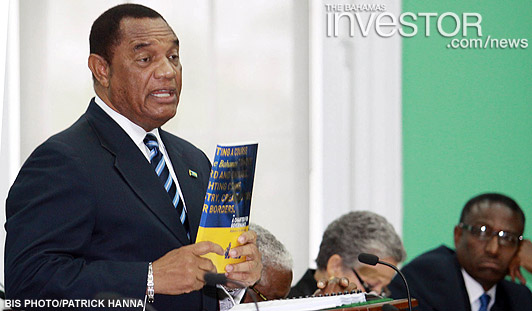 Pictured: Prime Minister Perry Christie holds up the Progressive Liberal Party's Charter for Governance during the Budget Communication in Parliament May 30, 2012. (BIS Photo/Patrick Hanna)
Refocussing the Bahamas Development Bank, strengthening the domestic economy, reducing crime and developing the Family Islands are some of the core imperatives laid out by the Prime Minister in the Budget Communication May 30.

The government will refocus the mandate of the Bahamas Development Bank and the Bahamas Agricultural and Industrial Corporation to broaden their range of activities beyond lending money, to include the provision of equity, credit guarantees and marketing and accounting support.

Prime Minister Perry Christie made this announcement as he presented the 2012/2013 Budget Communication in the House of Assembly May 30, 2012. Prime Minister Christie said the changes come as a result of the government's second core imperative programme of change, which is the strengthening of the domestic economy and the attendant creation of jobs, the broadening of Bahamian ownership in the economy and the attainment of a higher standard of living.

The first core imperative is to address crime.

The Prime Minister also said that the government remains faithful to its commitment to explore all lawful means by which majority ownership of the Bahamas Telecommunications Corporation (BTC) can be restored to the government and the Bahamian people. "We shall very shortly arrange a timetable for discussions that we propose to undertake in this regard with the present owners of the majority stake in BTC and other interested stakeholders."

Prime Minister Christie also said that as a means of stimulating the real estate market and the construction sector, the government is following up on its commitment to reduce the stamp duty rate on conveyances over $250,000 from 12 per cent to 10 per cent. He noted that for the other rates of stamp duty, first-time homeowners already benefit from the existing exemption from stamp duty.

The government will, however, review the entire stamp duties on conveyances in the context of its overall programme of fiscal reform. The Prime Minister said that the government is introducing a cap of $50,000 as the maximum real property tax payable on an owner-occupied residence as a means of further stimulating the construction sector.

He added that an allocation is being made in this budget for home repairs and community improvements under the auspices of both the Urban Renewal Programme and the Ministry of Housing in order to stimulate near-term job creation for small contractors.

Prime Minister Christie also announced that Exuma is being reinstated for eligibility under the Family Island Development Encouragement Act. Under the provisions of the act, duty free importation of building materials is permitted up to June 30, 2013, for the construction of new buildings or the rehabilitation, remodelling or extension of existing residential and commercial buildings.

Islands which benefit under the Family Island Development Encouragement Act include Sweeting's Cay and Water Cay, Grand Bahama; Grand Cay and Moore's Island, Abaco; Current Island, Eleuthera; Andros; Cat Island; San Salvador; Rum Cay; Long Island; Crooked Island; Long Cay; Acklins; Ragged Island and Cays; Mayaguana and Inagua.

Courtesy of The Bahamas Investor: www.thebahamasinvestor.com
May 31, 2012

BTC appoints leading Bahamian Businessman executive to team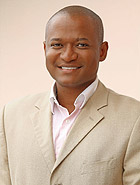 Gershan Major, BTC VP Channels and Marketing
Bahamas Telecommunications Co (BTC) announced last week that the company has named leading Bahamian business executive Gershan Major to its expanded management team as vice president channels and marketing. Major, formerly the chief executive officer of Mail Boxes Etc, is the latest in a series of Bahamians to join BTC in top management positions.

As VP of channels and marketing, he will be responsible for development and implementing marketing and sales strategies for the telecommunications provider.

Channels and marketing focuses on creating a new competitive commercial strategy in preparation for the full liberalization of the telecommunications sector in 2014, according to company officials.

As head of the company's Business Enterprise, Retail, Marketing Division and Directory Publications operations, Major will help to ready BTC for competition. "Gershan brings the kind of practical experience that we needed for the road ahead," says BTC CEO Geoff Houston. "He has the right skill set and brings hands-on administration experience that we think is so vital to the position. In addition to ensuring our products and services are ideally placed in the market for the maximum benefit and revenue earning potential, he will be responsible for coaching and developing what we think is one of the more highly skilled marketing teams in the country."

Major's appointment was effective immediately.

Courtesy of The Bahamas Investor: www.thebahamasinvestor.com
May 30, 2012
REAL ESTATE STAMP TAX AMENDMENT

NASSAU, Bahamas (May 30, 2012) Prime Minister of the Bahamas, Perry G. Christie signed the Stamp (Amendment) Bill, 2012 to amend the stamp tax on Real Estate transactions over $100,000 to 10%.

All transactions over $100,000 will be stamped at 10%.
May 29, 2012
DAMIANOS SOTHEBY'S INTERNATIONAL REALTY PARTICIPATES IN FIRST OF ITS KIND PRIVATE EVENT AT GOOGLE IN NEW YORK CITY


Google's Offices at Chelsea Market, NYC
NASSAU, Bahamas (May 29, 2012) – Damianos Sotheby's International Realty, a luxury real estate company based in Nassau, Bahamas, recently participated in an exclusive event for Sotheby's International Realty® marketing professionals at Google's offices in New York City.

First of its Kind: Google and Sotheby's International Realty Collaboration
The event was held May 9 and provided a unique opportunity for Sotheby's International Realty marketing professionals from 34 firms worldwide to network, share best practices and hear from the Google/YouTube team on industry insights and YouTube best practices.

"This meeting provided a great value to our company," said Maxine Hussey of Damianos Sotheby's International Realty. "We learned so much about the power of video in our industry and how we can best capitalize on it, Google's pay-per-click marketing, as well as the unique and powerful ways the Sotheby's International Realty brand is working with the Google and YouTube teams to promote the extraordinary properties we at Damianos Sotheby's International Realty represent, in addition to those from our worldwide network."

Damianos Sotheby's International Realty, which has offices throughout the Bahamas, offers exclusive Sotheby's International Realty marketing, advertising and referral services designed to attract well-qualified buyers to the company's property listings. In addition, the company and its clients benefit from an association with the Sotheby's auction house, which promotes real estate referral opportunities with auction house clientele.

As a Sotheby's International Realty affiliate, the company also has the unique ability to refer its real estate clientele to the auction house for jewelry, art, unique furniture and collectible appraisal services. Property listings from Damianos Sotheby's International Realty also are marketed on the sothebysrealty.com global website, as well as on the firm's local website, SIRbahamas.com.

"This meeting not only was the first of its kind for the Sotheby's International Realty brand but for the Google Real Estate team as well," said Wendy Purvey, chief marketing officer, Sotheby's International Realty Affiliates LLC. "Their team has never before held this kind of unique day of learning for one of its clients. The meeting not only was a very effective tool for our network to gain critical insights into the role of video in today's market but also how our organizations are working together in innovate ways. The response to the meeting was overwhelmingly positive and saw attendees from locations as diverse as Moscow and the Bahamas."

Damianos Sotheby's International Realty head office is located at 75 Shirley Street. For additional information, please contact 242 322 2305. The Sotheby's International Realty network currently has more than 12,100 sales associates located in approximately 620 offices in 45 countries and territories worldwide.
May 29, 2012

Michael Douglas and Friends charity golf tournament – video

Memorial Day weekend saw The Bahamas play host to the rich and famous who came to Paradise Island to play in the Michael Douglas & Friends Golf Tournament. Watch an interview with Douglas here.